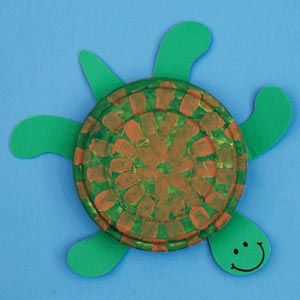 These creatures frequent the warm water of the coral reef. The sea turtle is often green and has a large, streamlined shell and head and limbs that don't retract into its shell. Our turtle shell is actually a clay pot and a little cuter than most sea turtles you'd see in the wild.

You will need:
6" Clay saucer
Acrylic paint - Green, Yellow and Brown
Foam sheet - Green
Scissors
Craft sticks
Paint brush
Stencil sponges
Tacky paste
Black permanent pen
Pencil
Tracing paper

Instructions:

Foot Pattern


Head Pattern


Tail Pattern

Cut stencil sponge into 4 pieces. Dip into green paint then apply over the bottom and sides of clay saucer. Dip sponge into yellow paint then apply some to the same area.
Dip a new sponge into brown paint and apply rectangles to the saucer, let dry.
Trace 4 feet patterns, 1 head pattern and 1 tail pattern to the green foam sheet, cut out. Draw two eyes and a smile on the head with the black permanent pen.
Dip craft stick into paste, apply to foam pieces. Paste feet, tail, and head to saucer, creating the turtle.

Tip: Place a small clear plate on top of the saucer to make the turtle into a candy dish.
Delta Ceramcoat® Acrylic Paint, Cherished Memories™ Stencil Buddy™, Stencil Sponges; Darice® Foamies™; Sakura of America IDenti-pen™; Elmer's® Craft Bond™ Tacky Paste; Forster® Craft Sticks; Fiskars® Scissors; Bemiss-Jason Tracing Paper