by Tracia Ledford Williams
&nbsp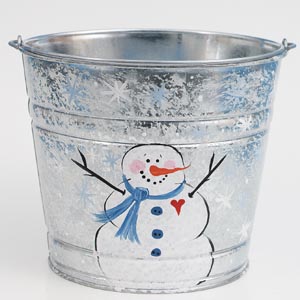 Create a useful bucket to store both seeds for the birds and salt for icy sidewalks.
You will need:
Galvanized bucket
Acrylic paint - White, Fuschia, Black, Medium Blue, Tangerine, Yellow, Green, Light Green and Opaque Red
Brush on metal primer
Matte varnish
Round paint brushes - #8 and #4
1" Sponge brush
Tracing paper
Pencil
Paper Towel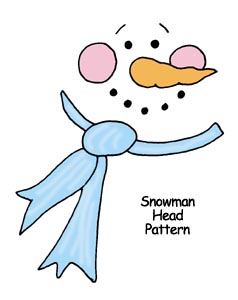 Instructions:
Apply metal primer over entire surface of bucket, inside and out, using the sponge brush. Let dry.
Trace and transfer patterns onto each side of the bucket.
Paint the snowman white. Use medium blue to paint scarf around his neck and tangerine paint for his nose. Using a small piece of crumpled up paper towel, dip softly into white paint and add snowy background around snowman. Add black eyes, mouth, outline arms and buttons to the snowman. Using the opaque red paint, add some red hearts.
Using medium blue, paint the blue bird on the opposite side of the bucket. Add the beak and legs with yellow paint. Paint leaves and vines using green, add lines of light green for highlights. Add black dot to eyes. Mix a tiny bit of white to medium blue paint and add strokes for feathers on the bird.
Let paint dry. Finish with 2 coats of varnish, allowing each coat to dry between applications.
Delta Ceramcoat® Metal Primer, Ceramcoat® Exterior/Interior Matte Varnish; Eagle® Brush Kid's Are Painter's Too Paint Brushes.
Home | Television | Projects | Book Order | Helping Kids | Teachers | Philosophy
E-mail questions about Hands On Crafts for Kids to info@craftsforkids.com
© Copyright 2004 Katherine Stull, Inc.