by Pattyi Cox
&nbsp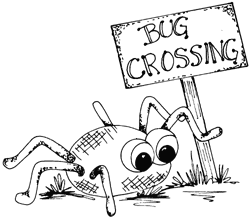 Meet the true crawlers of the insect world, as you learn how to make your bug models actually move!

You will need:
4" Styrofoam® egg
2 Styrofoam® 1" balls
3 Slices of white bread
Green glitter gel
Two 20mm Wiggle eyes
2 Wood 1" spools
2 Green 6mm chenille stems
Craft stick
4 Toothpicks

Instructions: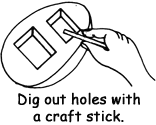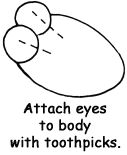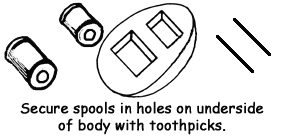 Cut Styrofoam egg in half lengthwise with a plastic knife. Hint: To make cutting easier, rub the knife edge with a candle. Rub the two Styrofoam pieces together to sand the edges. Dig out two hollow areas for spool on the flat side of egg half with a craft stick. Press smooth with your finger.
Insert a toothpick into each of the Styrofoam balls and the other end into the rounded side of the egg to form the eyes.
Crumble the bread into fine pieces. With a craft stick, mix with two tablespoons glitter gel and two teaspoons of water in a disposable dish. Spread the mixture over the bug's back and eye balls as if frosting a cake. Press the wiggle eyes onto the eyeballs before the surface dries. Set aside overnight to thoroughly dry.
Turn upside down. Place the spools in the recessed area, then push a toothpick through the side of the body near to the edge, through the center of the spool and into the opposite side. Check to see that the spools are not touching the Styrofoam and can spin freely.
Make holes for legs on the sides of the body with a toothpick. Cut each chenille stem into three equal parts then glue one end into the holes. Shape as shown in illustration.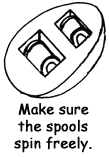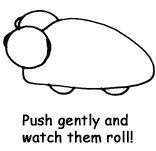 Dow Styrofoam® Brand Plastic Foam; Elmer's® Fun Dimensions™ Glitter Gel; Darice® Chenille Stems & Wiggle Eyes; Darice® Wood Craft Spools.
Home | Television | Projects | Book Order | Helping Kids | Teachers | Philosophy
E-mail questions about Hands On Crafts for Kids to info@craftsforkids.com
© Copyright 2004 Katherine Stull, Inc.