by Lynda Musante
&nbsp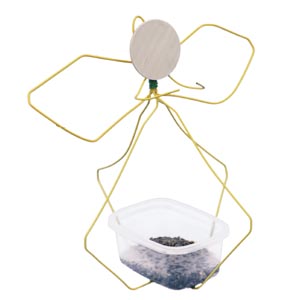 One of the "duties" of Mother Earth is to provide for the wildlife of the world. Our wire holder will feed the wildlife in your own garden or backyard.
You will need:
3" Wooden disk
3 Plastic coated wire hangers
16 Gauge wire
Plastic container or used margarine tub
Nail
Craft Snips
Sand paper
White glue
Bird seed
Pine cone
Peanut butter

Instructions: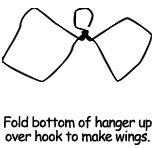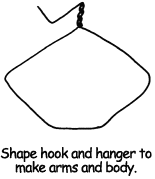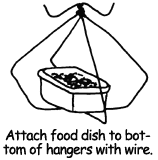 Sand disk smooth. Spread glue on disk to seal wood. Allow to dry.
To make wings, squeeze the hanger hook of one hanger closed. Pull the center of the hanger up to the hook of the hanger and loop it into the twisted section to secure. Bend hook over the loop.
To assemble the body, straighten the hooks on two hangers and bend them at a right angle. They will become the arms. Insert one hanger crossways into the second hanger. Bend both arms forward. Cut a 12" length of wire. Hold wings in position and wrap wire around all three hanger's twisted sections to secure.
Pull down the wide section of the two body hangers and flatten center area. Use nail to poke two holes 1" apart at the center point on each side of the plastic container bottom. Cut four 3" lengths of wire and bend each piece into a "U" shape. Insert a wire "U" through one set of holes and position container over bent hanger. Twist wire to secure it to the hanger. Repeat with three other sides.
Fill container with birdseed. Spread a pinecone with peanut butter then squeeze arms together to hold it. Your bird feeder can stand in the garden or hang.
Glue disk to top for face.
Darice® Wire, Wooden Disk; Fiskars® Softouch® Craft Snips; Elmer's® School Glue.
Home | Television | Projects | Book Order | Helping Kids | Teachers | Philosophy
E-mail questions about Hands On Crafts for Kids to info@craftsforkids.com
© Copyright 2004 Katherine Stull, Inc.