by Lynda Musante
&nbsp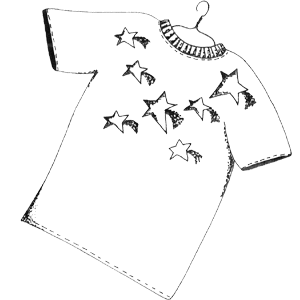 Design your own T-Shirt with a little paint and stamps made from simple foam shapes. Use the patterns shown here, or choose your own from the world around you.
You will need:
Tacky glue
White foam sheet
Glitter fabric paint:
Sparkling Cranberry
Sparkling Silver
2 Wood knobs
Scissors
Small paintbrush
Two 3" x 3" pieces of Styrofoam®
Foam brush
T-Shirt
#2 Pencil
Masking tape
Wax paper or shirtboard

Instructions:
Trace large and small star patterns onto the foam sheet then cut them out. Glue the foam shape onto the styrofoam block. Press firmly then glue wooden knob to the other side for a handle. Allow to dry thoroughly.
Cover work area. Insert shirtboard or wax paper inside the T-shirt and smooth out all wrinkles. Squeeze a little Cranberry paint onto a sheet of wax paper. Dip the foam brush into the paint then pat a thin layer of paint onto the star stamp. Press stamp firmly onto the T-shirt. Repeat as desired, scattering stars across the fabric.
Squeeze silver paint onto wax paper. Dip small brush into paint and with a sweeping motion, quickly brush a streak of paint from center of star outwards for the star's tail. Allow to dry. Follow directions on paint bottle for care and laundering instructions.
Elmer's® Craft Bond Tacky Glue; Delta Starlite Shimmering™ Fabric Paint; Darice® Wood Craft Wood Turnings; Fiskars® Student Scissors; Dow Styrofoam® Brand Plastic Foam.
Home | Television | Projects | Book Order | Helping Kids | Teachers | Philosophy
E-mail questions about Hands On Crafts for Kids to info@craftsforkids.com
© Copyright 2004 Katherine Stull, Inc.