by Tracia Ledford Williams
&nbsp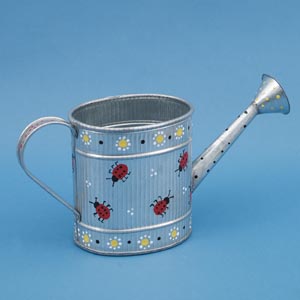 You can't have a garden without water! Plants need this nourishment for growth. Create a fun design using special paint on a metal watering can.
You will need:
Galvanized watering can
Metal paint - Red, Black, White and Yellow
Round paint brush
Paper plate

Instructions: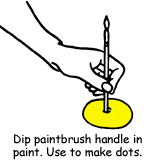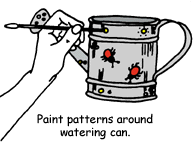 Dip pointer finger into the red paint then use you finger to apply the lady bug bodies around the center of the watering can.
Dip baby finger into the black paint, apply the dot to the lady bug's head next to the body. The lady bugs can go in any direction on the center of the watering can.
Using the round paint brush and black paint add the legs and the antennae to the lady bugs. Let the paint dry. Now dip the handle of the brush into black paint and apply the 6 spots to the lady bug.
Add large yellow dots using your pointer finger and yellow paint, around the top and bottom of the watering can. Using the handle of the brush and white paint, add the small white dots around the yellow dots and trios of dots in the area of the ladybugs, creating flowers. Add a black dot between each flower with the handle of the brush and black paint.
Add the following dots to the following areas, using the handle of the brush: red paint to handle, black paint to long part of spout and yellow paint to the top of spout.
Allow paint to dry and cure for 10 days, then it is permanent.
Delta PermEnamel™ Paint; Eagle® Brush Kid's Are Painters Too Paint Brushes.
Home | Television | Projects | Book Order | Helping Kids | Teachers | Philosophy
E-mail questions about Hands On Crafts for Kids to info@craftsforkids.com
© Copyright 2004 Katherine Stull, Inc.