Hands on crafts for kids is the resource for kids craft projects and instructions  for kids 6-12 and parents, teachers and other group leaders. It includes   school and curriculum based projects,  multi cultural projects, and every day, holiday and seasonal ideas. It is  the online home of the public television program Hands On Crafts for kids.

About Our Hosts

Franz Spohn was born in Columbus, Ohio and, ever since winning the Pancake Supper Poster Contest while in the 4th grade at Montrose Elementary School, he's wanted to be an artist. Franz earned his M.F.A. degree from the Ohio State University and has taught in a wide range of educational venues including University of the Arts in Philadelphia, Walla Walla State Penitentiary and, for the last 18 years, at Edinboro University of Pennsylvania. 

His work has been exhibited in many museums and galleries including the Museum of  Arts and Design in NYC, Glenbow Museum and the Museum of Contemporary Art, Calgary, Alberta, Canada, the Appleton Museum, Ocala, Florida and the Philadelphia Museum.

He has illustrated children's books and book covers for Bantam, Doubleday, Dell in NYC, hosted and co-produced the PBS instructional video series Eureka! The Creative Art Series  and is internationally famous for his gumball mural projects which have been featured on Ripley's Believe It Or Not, The Secret Life of Gum (Food Channel) and the remake of I've Got a Secret (Game Show Channel.  He has done projects for the National Science Museum in London, England, the Franklin Institute of Science, Philadlephia, PA , among others, as well as for school libraries in NYC, Los Angeles, Washington, D.C., Orlando, New Orelans, Minneapolis and Detroit as part of   the Library Makeover projects by Target and Heart of America.

Franz repurposed and lives in a country church built in 1873 in Rockdale Township, Pennsylvania. His ambition is to help as many children and families develop their creativity through projects that express the fun and joy of life and working together.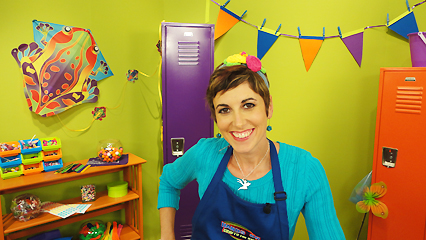 Candie Cooper is a designer with a passion for combining unique materials and color combinations, inspired by extensive travel and her years living in China. Candie is the author of Metalworking 101 for Beaders (Lark Books 2009), Felted Jewelry (Lark Books 2007), and Designer Needle Felting (Lark Books 2007) and newly released ReMixed Media DVDs (Interweave Press). Candie is the host on the Public Television series Hands On and has appeared on Beads, Baubles and Jewels. Currently she's creating designs for her new book as well as a variety of companies in the craft industry and jewelry-making publications. She teaches workshops nationally to children and adults. She earned a Bachelor's degree in Art Education and Fine Arts from Purdue University. For a further peek at her creative life, please visit www.candiecooper.com.